Heath Ritenour's Life in the Insurance Industry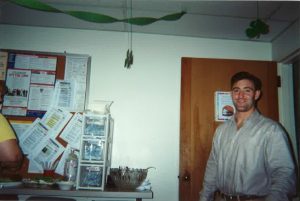 People say that children grow up to be like their parents. For Heath Ritenour, that comparison is considered a great compliment. Growing up in Apopka, Florida, with his parents, John and Valli Ritenour, Heath learned the values of determination and hard work from an early age. After graduation, he quickly learned the ins and outs of insurance, eventually becoming CEO of his father's company, Insurance Office of America (IOA).
Like Father, Like Son
Heath's father, John Ritenour, began his life in a small town outside Pittsburgh, Pennsylvania, in the 1950s. After high school, he began working in a steel mill. When workers at the steel mill went on strike, John transitioned into working at his brother's bakery. The gas shortage of the 1970s hurt their business, forcing John to make the decision to leave the bakery and explore other career avenues.
John began selling life insurance during the day. Not only was it a great learning experience, but it also taught him "to relate to the full gamut of people." He started picking up tips from professionals and aimed to feed his entrepreneurial spirit by starting his own company. Soon after the birth of his son, Heath, John and his wife, Valli, moved to Florida, and Insurance Office of Florida (IOF) was born.
As Heath grew up, John realized the flourishing potential and hardworking nature of his son. After a few years of playing football in college, Heath expressed his desire to follow in his father's footsteps and learn more about the family insurance business that he grew up watching his parents build.
Learning the Trade
Heath started exploring the family business while he was still in college majoring in business administration at Liberty University. During the summer, he began interning at the newly renamed Insurance Office of America (IOA), where he was able to learn many valuable lessons while on the job. His daily tasks included listening to calls and observing negotiations and interactions with clients. "I realized how much value we add to our clients," Heath said, recalling his internship experience.
He eventually found his true calling to the insurance industry after diving more into the business. He understood the business and its values like the back of his hand and wanted to continue learning more about the clients they served. By consulting and learning about each industry, Heath realized that IOA was where he wanted to be.
A Family Institution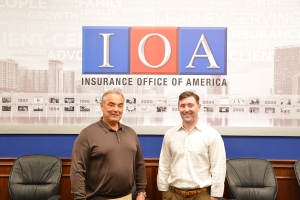 Instilled with a strong sense of family at an early age, Heath always looked to one day mirror the classic love story that his parents exemplified. So, Heath's professional life flourished, he didn't forget to make time for a personal one. In 2004, Heath married his wife, Abby. Together, they welcomed a son in 2008 and a daughter in 2012, and in the process, made John and Valli the proudest of grandparents.
Moving the Industry Forward
Over the years, John Ritenour extended the offer of CEO to his son several times, but Heath refused. A man of faith, Heath believed that he should pay his dues and prayed about his decision. Eventually, he came to terms with the position as an avenue for extending the culture of the company. He connected with the clients and agents of IOA, making him the "people's choice," as John said.
After taking the role of CEO in 2007, Heath still had more to learn. As John transitioned toward retirement, he continued to mentor his son. In no time, Heath quickly adapted to his leadership position within the business and the company continued to grow into the industry leader that is it today.
Keeping Busy
Now the chairman and CEO of IOA, Heath takes pride in the values that he holds and the company culture he continues to cultivate.
During his daily operations, he strives to put the needs of his clients first by ensuring they receive the best possible service. To his team, he stresses the importance of maintaining those relationships by providing value while also keeping the business dynamic and authentic. In doing so, IOA shares in their clients' success.
"In the midst of the daily grind, there is really no place like IOA. No other broker in America provides its people the ability to earn and own what we do here as well as add value and be part of a culture that cares," says Heath. "We are focused on helping our people and our clients thrive."