Due to the Coronavirus pandemic, normal life for the average person has been put on hold. Jobs have been lost, furloughed, or transitioned online; new health practices are being implemented; and social distancing has become the new standard for daily interactions with others. The economy has been significantly impacted by these necessary changes. While the majority of businesses have been negatively impacted by the pandemic, the entertainment industry has taken a significant hit. A large number of events that draw large crowds, such as concerts, movies, and major league sports, have been discontinued or postponed for the time being.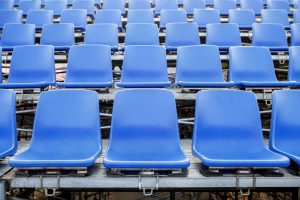 Seeing as the pandemic is showing little signs of fully going away any time soon, the ability to adapt is necessary for such businesses to survive. Some forms of live entertainment, such as WWE professional wrestling and UFC fights have found new ways to continue broadcasting events to fans with only the wrestlers and fighters present at the venues. Such operational changes have led those in charge of other forms of live professional sporting events to consider similar revivals.
Here are each professional sport's current plans for returning with no fans in the stands.
Football
Compared to other national sports, the NFL's losses are not expected to be as significant, as the majority of their financial returns are sourced from television contracts. Football teams typically play, at most, eight games at their home stadiums yearly. These two factors should contribute to a fairly easy transition from fan-filled stadiums to broadcast-only games. According to ESPN, the 2020 football season is expected to begin on September 10. While this date is subject to change, games will be played in stadiums with no fans present.
Baseball
The MLB's losses related to the pandemic are expected to be significantly higher than the NFL's, as the majority of baseball teams receive almost 40–50% of their financial yields from fan-related spending, i.e., tickets, parking, merchandise, and food. To account for the losses, player salary cuts are expected. While negotiations are still underway regarding how the season will resume and how much players will be paid, no official announcements have been made about when baseball games will be resuming. Potential games will be played in stadiums with zero fans in attendance.
Basketball
The NBA has confirmed that the 2019-2020 basketball season will continue starting July 31, 2020. The ESPN Wide World of Sports Complex in Walt Disney World Orlando will serve as the primary hub for all of the upcoming games and team practices, a decision that will ensure the rest of the season is completed in an isolated and safe environment. Featuring the top 22 currently ranked programs, the NBA's "bubble league" will feature several current and former Insurance Office of America (IOA)-insured teams such as the Orlando Magic, Washington Wizards, and Memphis Grizzlies, among others. Each game will be broadcast to fans on ESPN Networks' various platforms, as they will not be open to live audience attendance.
Soccer
The Major League Soccer organization has announced that they plan to continue the national soccer season on June 22, 2020, in Orlando, Florida. Games will be hosted at either the Disney Sports Complex or local stadiums throughout Orlando, such as Exploria Stadium — the home to Orlando City Soccer Club. All players and members of each soccer team will be staying in hotels in and around the Disney area. The games will be played with no live audience members but will be broadcast to fans.
Golf
The PGA Tour has confirmed that the 2019–2020 golf season will start back up on June 11–14 and continue with the following events:
June 11-14: Charles Schwab Challenge
June 18-21: RBC Heritage in Hilton Head South Carolina
June 25-28: Travelers Championship
July 2-5: Rocket Mortgage Classic
July 9-12: John Deere Classic
July 16-19: Memorial at Muirfield Village
Of these six events, the first four will be played with no fans in the audience. Whether the last two will be open to fans is dependent on any future updated guidelines from the Centers for Disease Control and Prevention (CDC). The 2020–2021 PGA Tour is scheduled to begin on September 10–13.
The LPGA Tour will resume the 40th competitive season of the IOA-sponsored Symetra Tour in Beaumont, California, with the IOA Championship on August 21–23. While the IOA Classic is still scheduled to be held on September 25–27 at the Alaqua Country Club in Longwood, Florida, the IOA Invitational in Milton, Georgia, has yet to be rescheduled. IOA Chairman and CEO Heath Ritenour is working alongside his father John Ritenour and Symetra Tour representatives to reschedule the final leg of the tour.
Hockey
No official announcements have been made about when the NHL is set to start hosting new hockey games this year. The NHL has been following a four-stage plan that includes the following:
Currently: No games are being played. Players are following guidelines to isolate themselves.
First half of June: Some teams are allowing players to practice with fewer people on the ice. Practices are not required.
Middle of July: Depending on updated guidelines from the CDC, teams may start participating in training camps.
Undetermined Time: 24 teams in two "hub" cities will compete in seeding round robins, a qualifying round, and conference-based Stanley Cup Playoffs.
These stages will ultimately result in new hockey games being played; however, when the hockey season starts back up, no live audiences will be present in the stadiums.
NASCAR
The NASCAR racing season restarted May 17, 2020, with the Darlington Raceway race. Seven different races were held from May 17–27. All of the races were broadcast to fans, but no live audiences were able to attend. Further races have yet to be announced.
While a lack of live spectators negates a team's homefield advantage and results in lost revenue for their stadium's vendors and local economy, fan-less sports is still better than no sports.
I'll take what I can get.